2019 MARGARET RIVER DRESSAGE SERIES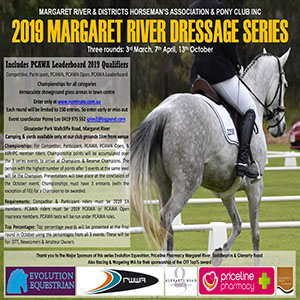 Includes PCAWA Leaderboard 2019 Qualifiers
Competitive, Participant, PCAWA, PCAWA Open, PCAWA Leaderboard
Championships for all categories
Immaculate showground grass arenas in town centre
Enter only at www.nominate.com.au
Each round will be limited to 150 entries. So enter early or miss out
Event coordinator Penny Lee 0419 975 552 [email protected]
Gloucester Park Wallcliffe Road, Margaret River
Camping & yards available only at our club grounds 1km from venue
Championships: For Competitor, Participant, PCAWA, PCAWA Open, & MRHPC member riders. Championship points will be accumulated over the 3 series events to arrive at Champions & Reserve Champions. The person with the highest number of points after 3 events at the same level will be the Champion. Presentations will take place at the conclusion of the October event. Championships must have 3 entrants (with the exception of FEI) for a Champion to be awarded.
Requirements: Competitor & Participant riders must be 2019 EA members. PCAWA riders must be 2019 PCAWA or PCAWA Open insurance members. PCAWA tests will be run under PCAWA rules.
Top Percentages: Top percentage awards will be presented at the final round in October using the percentages from all 3 events. These will be for: OTT, Newcomers & Amateur Owners.
Related Events