Darlington Pony Club and Zamia Adult Riding Gymkhana – Hacking & Show Jumping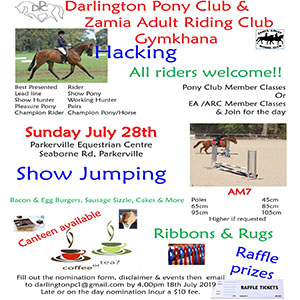 HACKING DAY 28TH JULY 2019.
Ring 1 is for Pony Club Members and Ring 2 is for EA/ARC Members. If you are not a current member in either you are more than welcome to join Zamia for the day competition and compete in ring 2. Attached are the photos of the classes etc. If you have any questions or would like a pdf sent to you please do not hesitate to ask.   We have leadline, Walk/trot and walk/trot/canter classes. Show jumping from poles to 105cm. This is a family friendly event and we would love to see you there. Click on this link to go to our facebook page and entry forms.
https://www.facebook.com/events/498432457561599/permalink/498448264226685/?notif_t=page_post_reaction&notif_id=1562226247541945
Related Events