David Landreville Hoof Care Clinic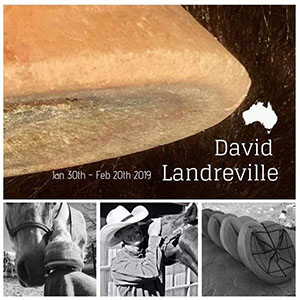 DAVID LANDREVILLE AUSTRALIAN HOOF CLINICS
February 2019
David has been inspiring hoof professionals all over the world, and now in what will be his first time in Australia, he will be sharing his knowledge and experiences to a very limited number of places.
Max 12 participants per clinic.
Clinics will consist of assessment, mapping and trimming. No cadavers at these clinics.
There will be 6 horses per day. Day one will be mostly David demonstrating how he assesses, maps, and trims. Consecutive days, participants will all get a chance for hands on with Davids guidance.
Participants have the opportunity to bring a horse, however a range of different pathologies (as well as some sound horses), will make the most of it for everyone. Please discuss this with the individual coordinator.
CLINIC DATES, LOCATION & CONTACT
RDA OAKFORD – Western Australia- 5-7th February
Evie-Ray Hersom 0448881932 [email protected]
FULL 3 DAY PARTICIPANTS $695.00
1 DAY SPECTATORS SPOTS $195.00
"My intention is to help people recognize the stage of development and trim to promote further development. Every trim should set the feet up to be healthier, stronger, and more comfortable by the next trim.
I'm not so much teaching a method as I am sharing the way I read feet and make trimming decisions…based on listening to the horse and understanding the mechanics of the equine foot.
When I first started shoeing horses I was very concerned about keeping their feet level, and this became more and more difficult as I saw more and more conformation flaws, deformed feet, and crooked movement in horses. Perfect balance became very important to me very early on, and continues to be the focus of my attention. There should be no margin of error… ever. Perfect balance always; that's what fixes them. God designed these beautiful animals to move in perfect balance always…with growth matching wear, for every step. According to science, horses and their feet have evolved over 65 million years with their current form going back 35 million years. Since we have taken them out of nature, and diminished and confined movement, it is our responsibility to do natures work and keep them balanced."
David Landreville
http://landrevillehoofcare.com
If you'd like to register
Please contact for a form to attend
FULL 3 DAY PARTICIPANTS $695.00
Tuesday 5th to Thursday 7th February
1 DAY SPECTATORS SPOTS $195.00
Tuesday the 5th February
Related Events