Wagin Adult Rider Wing It Day
April 28 @ 9:00 am

-

5:00 pm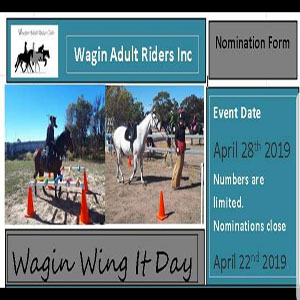 The Wagin Adult Rider Inc proudly invites you to join in their fun filled day for adults event "The Wagin Wing It Day".
Event specifically catering for the inexperienced rider or horse, the nervous nellie or those looking for a fun day out.
o Ridden Handy Pony Obstacle Course
o Morning Have-A-Go Mounted Games
o Afternoon Showjumping Side by Side Course (Ground Poles/Cross Rails and 45/65cm course)
o Riders are encouraged to dress up self (and horse) in costume!
o Plenty of prizes will be up for grabs!
o English or Western or any other styles welcome!
Canteen Lunch Available- Chicken/Salad Wraps or Ham/Cheese?Tomato Combination Toasties- pre-order with your entry!
You may participate in both rounds of Showjumping- but will only be scored on the higher round to allow fairness in placings to those only competing in the encouragement round only.
Expected Day Plan:
Morning: Have-A-Go-Mounted Games
Afternoon: Showjumping and Handy Pony
Riders must be 18+ years of age to participate in Adult Rider events.
$30 Entry Fee and $5 ground fee
Non WARC 2019 Members: $20 Day Insurance Fee also applicable
($30 + $20 + $5 = $60 for Non WARC Members)
($30 + $5 = $35 for WARC Members)
Yards available- must be left clean of hay and manure.
Direct Deposit to WARC Inc BSB 306033 Account No. 0104598
(Use your surname & WWD as reference)
If you have any queries or want to send in your entry:
please contact [email protected]
Send message on Facebook to the WARC page @WaginARC
https://www.facebook.com/events/782769478759643/?ti=cl
Related Events