28sepAll Day29West Coast Cowboys Tantalising Triple PointsEvent Type:Novelties,Training Day,Western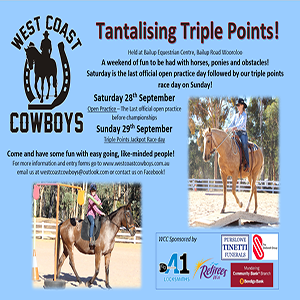 Event Details
A weekend of fun to be had with horses, ponies and obstacles! This is the weekend where anything can happen! 
Saturday 9am-4pm – Jump in the saddle and practice at your leisure with a range of obstacles that will be set in the arena. The day is split into 2 groups being AM & PM
If you haven't done the obstacles before and wish to have an instructor with you please let us know, fee may apply if you require an instructor for a extended period of time.
Sunday from 9am – Riders will compete in their divisions in specified order, the race course and order of run will be revealed an hour prior to the race commencing. Riders will need to be available for a walk through from 9am, this is done without horse/pony.
Non-members are welcome & encouraged to come along and have a go at this exhilarating & extreme fun sport!
Time

september 28 (Saturday) - 29 (Sunday)
Location

Bailup Equestrian Park, Wooroloo

Bailup Rd, Wooroloo, Perth