Banish the Bounce: Sports Bras for Equestrians
30 April 2018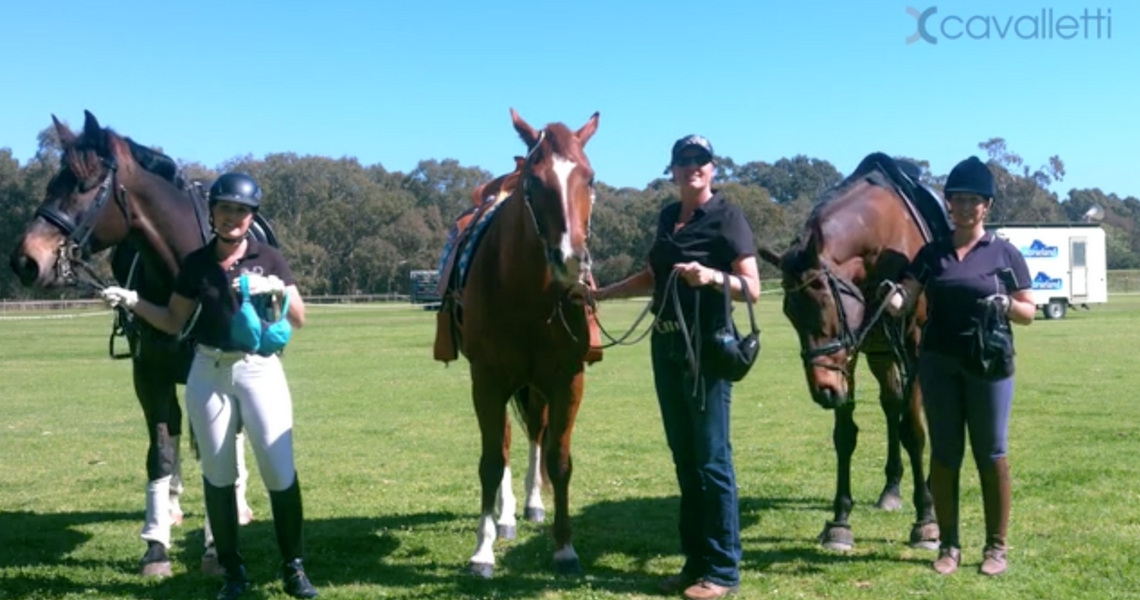 All over the world, female riders are finding that "fun bags" are not so fun as you're sitting the trot with vet-wrapped, double bra'd chests a-heaving.
So, Cavalletti Equine Marketplace and iVideo Production accepted the mission to stamp out crimes committed against cleavage. The result? The ultimate equestrian's guide to keeping "the girls" happy and healthy, no matter what kind of ride you're planning.
Watch the video for great ideas and new solutions to boob bounce.
Slow internet? Just want to know more? Amy Jaffers from sportsbrasdirect has answered all your questions about finding the right sports bra for horse riding.
Should all female horse riders wear a sports bra when riding?
It is so important that all female horse riders wear a sports bra when riding. Horse riding creates a lot of breast movement, especially vertical movement, which can cause irreversible damage to our delicate breast ligaments. Ultimately this can lead to stretch marks and breast sagging, why wouldn't you want to prevent this?
Horses can detect tension in their rider, wearing a good sports bra will increase your comfort level and performance. It can assist in better posture to sit tall in the saddle resulting in a more confident rider and horse.
Some smaller breasted women don't think breast bounce affects them as they do not physically feel the pain. However whether you are an A cup or an E cup the breast ligaments can still be strained during activity. Many smaller breasted women have said that when they did try riding in a good sports bra for the first time, they experienced much greater comfort and realised the difference it actually makes.
What makes a good sports bra?
Women's requirements are all different but there are some key features that make a good sports bra for riding. It is essential that the bra is designed and recommended for high impact sports. To reduce breast bounce a bra with higher coverage is a good option. The band of a sports bra is where most of the support comes from, so this needs to be a snug fit, much firmer than your everyday bra. Features such as an adjustable back and straps are beneficial to customise your fit, and a moisture wicking material to keep you cool and stop chafing.
There are so many bras on the market. How do we know how to choose the right one?
There are so many bras on the market it can be difficult to know how to choose the right one. At sportsbrasdirect we provide lots of information to help you select the best sports bra for your requirements. You can use our fitting room page to check your size and look at fitting tips as well as read lots of information on sports bras. Live chat is available for direct contact with me to discreetly answer any questions and help with your sports bra selection. We also provide lots of information on each specific sports bra including our own comments and reviews from personally testing the bras.
Many of our bras are not available in your general high street stores, that is because we are not just a general retailer with a few sports bras including in the mix. This is our speciality. We have a whole section on our website dedicated to bras suitable for horse riding. Plus the same for many other activities you may also do. We live and breathe sports bra to bring you the best choice, advice and service. Our mission is to help every woman find her perfect sports bra.
Demystify the sports bra jargon. What do compression and encapsulation actually mean?
There is a lot of jargan when it comes to sports bras and you often hear the words compression and encapsulation being used. Compression style sports bras are those that minimise breast movement by hugging your breasts firmly to your chest. This is good at stopping the in and out movement, but doesn't always do as much in terms of breast bounce, so may not be suitable for high impact activity such as horse riding. Encapsulation style sports bras are designed to support each breast separately which reduces a greater range of overall breast movement and often better for intense activity. The individual breast support also provides a more natural breast shape, rather than the more flattened look of compression bras.
Many really high support bras incorporate both of these elements in their design to provide you with the best of both.
We've heard some of our larger breasted women are wearing multiple sports bras to stop the amount of breast movement that happens and ensure they are comfortable enough to ride – especially if they have to do lots of sitting trot or jumping. Is there a solution for this?
Many larger breasted women wear multiple sports bras to make sure they are comfortable enough to ride. This should not be necessary and I think it means they have not found the right sports bra. Investing in one well fitting, high impact sports bra will provide more support than wearing two bras.
It can be hard to find a good choice of suitable sports bras all in one place. High street stores are usually limited by brands and sizes with little advice provided. This has left many women with in-adequate support and the need to wear 2 bras, as they simply do not realise better options exist.
At sportsbrasdirect we strive to find you a sports bra you can wear with confidence and comfort, it is an essential piece of equipment for all active women.
In horse riding, lots of sitting trot and jumping can put huge amounts of strain on our breasts, it is worth spending the extra time to look for the best sports bra to protect your breasts. Looking after your breasts is so important and we are really excited to be able to announce the launch of a new product in Australia, the PinkClover breastband. This is a support band designed to be worn with your sports bra, across the top of your breasts to prevent upward breast bounce. It's an amazing product that really will be a game changer for a lot of women. This will be available from sportsbrasdirect mid September.
We love that we can help women all over Australia find their perfect sports bra, no matter where they live, and we provide the added peace of mind of free delivery and returns on all of our sports bras.
We've also been told that some women have actually stopped riding because they are too self-conscious about their breasts bouncing and attracting unwanted attention. Surely the size of your breasts shouldn't be a barrier to exercise?
The size of your breasts should not be a barrier to exercise, whether that is with horse riding or any other activity. Larger breasted women can definitely feel the more immediate damaging effects of breast movement. Including both the physical pain of the breast strain but also some women suffer the emotional effects of their breasts bouncing and attracting unwanted attention. This is a huge barrier to a lot of women and often under estimated. I cannot change the size of your breasts, but I can definitely help you find a better solution for breast support so that you are comfortable, supported and confident.
Will the correct fitting bra eliminate breast soreness after a long day in the saddle?
Wearing a correct fitting bra can eliminate breast soreness after a long day in the saddle, as long as it is also a sports bra designed for high support. You should not wear a bra designed for lower or medium impact support for an activity such as horse riding which gives your breasts an extreme workout. So if you get the right bra with the right fit and support you will feel much better both in the saddle and once you finish. The Fitting Room on our website has some great advice for checking your size and I'm available to help on live chat to help too.
And what about our smaller breasted ladies…some tell us they don't like wearing sports bras because it makes them look flatter, or like they have a "uniboob". What's your advice for them?
Smaller breasted ladies also have concerns and many do not like wearing sports bras as they make them look flatter or give them a uniboob. This is usually because smaller breasted women often choose a more crop top compression style bra. As discussed earlier, this style of bra pushes your breasts against your chest wall which is what can create the flat, uniboob look. The style of bra is definitely a personal preference, but there are so many options available that smaller breasted ladies should not be concerned. We have a lot of highly supportive bras that give a great breast shape, some also have designs which include moulded or padded cups to enhance your shape further. So you can protect your breasts by being well supported and still look great.
How about nursing mothers? Do you recommend riding while breastfeeding (obviously not at the same time!) and what sort of bra could help these women?
Nursing mothers should definitely still be able to participate in any activity they choose, including horse riding. We have a whole section on our website dedicated to maternity sportsbras. I know I struggled to find good support for exercise whilst breastfeeding, so it was really important for me to be able to help women solve this problem.
The bras recommended in our maternity section are all designed to support delicate and changing breast tissue during and post pregnancy. They also allow easy access to give you the feedom to breastfeed your baby straight after your ride. Just be sure to select one that specifies it is for high impact activity.
Tell us about the choice of bras you've selected for each of our three volunteer bra reviewers. What led you to choose these styles and what features and benefits do they offer?
The bras I recommended for each of the 3 ladies are all very supportive high impact sports bras suitable for horse riding. However they do vary in style due to specific needs of each of the ladies.
Vanessa specifically needed a style that would support different size breasts and still provide a great even looking breast shape. She also needed to ensure there was a lot of support around the sides of the breasts due to swelling of the lymph nodes. The bra I selected is non wired as I felt this would be a more comfortable option for Vanessa. It has contoured cups and a thicker material which is still very breathable but offers great modesty and gives a good bust shape, evening out the appearance of the different size breasts. The sides of the bra, under the arms, provides high support due to the greater coverage, which was a real specific need for Vanessa. It has a racer back design but is still very easy to put on and off. The straps adjust with Velcro at the front which would make it easy for Vanessa to adjust the bra whilst it was on to achieve a snugger fit for the smaller breast.
Allison usually wore a sports bra plus a crop top to ride in because even though she is a smaller cup size she had never found anything supportive enough for riding. She currently wears underwire but this was never a conscious decision just what she had always done. It was important for Allison that the bra could also be worn for cardio and weights sessions at the gym as well as riding. The bra I selected is incredibly lightweight and really soft. I felt it was important to show Allison she could achieve a high level of breast support without the thickness and weight she would have experienced wearing a bra and crop top under her shirt. This sports bra is so comfortable you can forget you are wearing it. The technical moisture wicking fabric will also keep Allison cool while riding or at the gym. The design of this sports bra also gives a great natural breast shape with a functional and stylish racer back, so as well as providing excellent support, she will look great too.
Alex wanted to find a bra to give her bigger breasts the support they needed whilst riding. She wanted a racer back as she preferred not to have to worry about straps slipping down. Alex currently always wore an underwired bra and was unsure about having a non wired style. The bra I selected supports each breast individually to prevent a uniboob look, and has a higher front to really give ultimate support and better bounce control. The bra has a soft, seamless inner to prevent any running or chafing. It is a non wired bra but has a firm band to provide the high support, I really felt that this would be a more comfortable option for Alex compared to her existing underwired bra and wanted her to give it a try. The racer back straps can be trickier to put on the first time, but I thought it was worth it for Alex as these straps are designed to further increase the bras level of support whilst giving you a great range of motion. The straps are also nice and wide and padded to increase shoulder comfort, and definitely will not slip whilst riding.
All 3 ladies were also provided with the PinkClover Breastband. This new product is fantastic to wear with sports bras to prevent the up and down movement of breast bounce. It's like the icing on the cake. No matter what breast size you are, big or small, the PinkClover Breastband combined with a great sportsbra will leave your breasts feeling totally supported so you can forget about them and concentrate on the fun stuff.
If your breasts are different sizes, how do you fit a bra?
It is actually quite common for women to have breasts of different sizes. Breasts can also fluctuate in size at different times of the month based on our hormone cycles. It is important that you fit the sports bra to your largest breast. You can then select certain features to help even out the breast shape and ensure the smaller breast is getting enough support too. This can include easily adjustable straps, as you may need one strap to be tighter, contoured or padded cups or bras made with a thicker material to help even out the size discrepancy. If there is a fair difference in size you can choose a bra with removable padding and just wear the padding in one cup. Or we have bras in our mastectomy sports bra section that have inbuilt pockets for your own breast forms or padding.
How do women know they have the right size bra and that it fits properly?
It's important that women know they have the right size bra and it fits them correctly. There are a few things you can do to test the fit and support of your sports bra.
The band of your sports bra should be firmer than your everyday bra and fit in a straight line across your back. It needs to be a snug fit as this is where most of the support comes from. If you jump around a bit with your arms in the air and the band slides up your back, it is too big.
Your breasts should be fully contained within the cup. If the cups are gaping, you need a smaller cup size. If you have breast tissue spilling out, the cups are too small. If the cups fit around your breast well but you have spillage at the top it may mean that the bra design is not right for you and you need a sports bra with greater coverage at the front.
If your bra has underwire it should lie flat against your body following the shape of your breast, it should not be on top of or digging into your breast tissue.
The straps should be tight enough to not slip, but too tight straps can pull on the cups and effect the overall fit and comfort of your sports bra. It is a misconception that the straps need to be pulled tight, most of the bras support comes from the band, not the straps.
The Fitting Room section of our website provides lots of information including fitting hints and tips. Ladies can also talk to me discreetly on the live chat or send a message if they have any specific fitting questions.
Are there easy-access sports bras for ladies with reduced upper body mobility?
Some ladies have reduced upper body mobility so it is important to ensure we have sports bras that are easy to put on and off. Sports bras that are similar in style to everyday bras are popular as these can easily be fastened first at the front and then spin the band around so the clasp is to the back and pull up the straps. You tend to find racer backs can be harder to put on if you have reduced mobility. You would also want to avoid bras that have no fastening and just pull over your head…these can be very difficult to take off, especially when you are hot and sweaty! Another option is a sports bra that fastens at the front with a zip, but just ensure that they are still high support bras if you intend on wearing it for riding.
So we've found a gorgeous, supportive and comfortable bra that feel great when we're riding. How do we look after it?
Once you have found a gorgeous, supportive and comfortable bra and you feel great riding, you want to take good care of it. If you sweat a lot during your ride, or any other activity, try and give the bra a quick rinse as soon as you can to remove some of the sweat and bacteria, as these can cause the fibres to break down. An easy way to do this is by taking it in the shower with you.
To give your bra a full wash it is best to hand wash in cool water with a mild detergent. Washing in hot water can damage some of the fabrics. You will also want to avoid using fabric softener as this can coat the fabric of the bra which stops them being able to wick away sweat.
If you must machine wash, ensure the clips are fastening and you use a garment bag for protection. Wash on a cold cycle, selecting the most delicate washing cycle and do not add any fabric softener.
If you can, dry your bra flat in the shade. If you do line dry it is best to hang from the band, not from the straps. Avoid drying in full sun as this will cause fading and break down of the fibres. Never tumble dry your sports bra as this will deteriorate the elasticity and the fibres and will alter the fit, comfort and performance of the bra.
Remember, a sports bra should never have a birthday. Sports bras get a much greater workout than your everyday bras, how long they stay strong does depend on how often it is worn but as a guideline they should be replaced every 6 to 12 months. There is more information about how you can tell if your sports bra needs replacing in the blog section of our website.
---