Facebook: Policy regarding the sale of horses
10 April 2017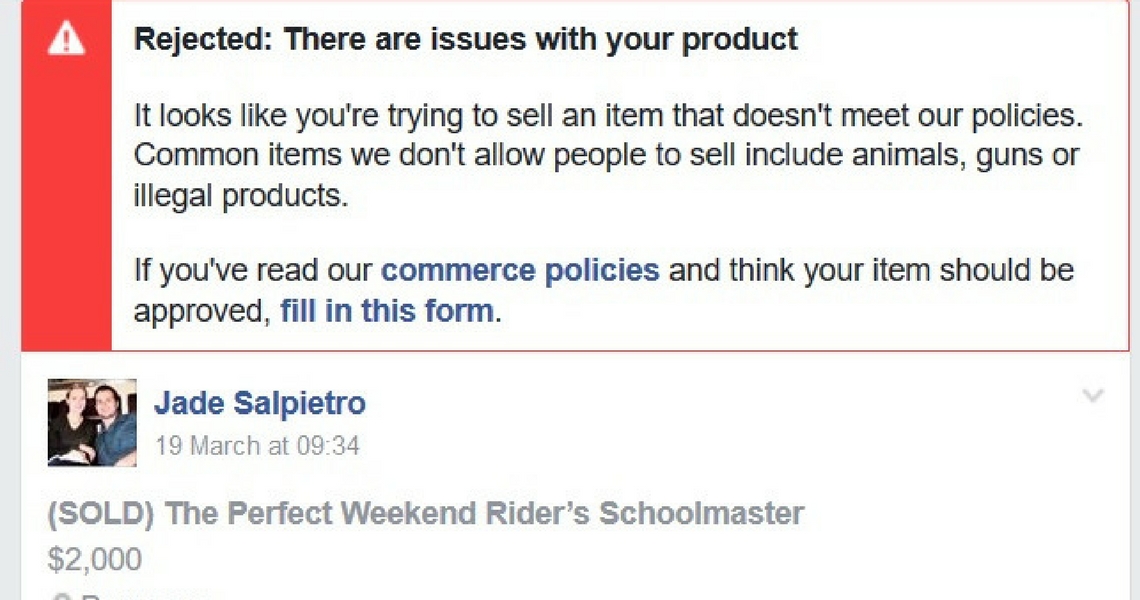 The equestrian world was left reeling last week as Facebook commenced enforcing a ban on horse advertising under the rules of its Commerce Policy.
The policy – which prohibits the sale of animals on Facebook – has been in effect since the launch of its Marketplace feature last year, however, it has only recently started to be policed. As a result, thousands of horse classified ads within the Facebook Marketplace have now been rejected and unlisted.
In an effort to clear up confusion about what is permitted pertaining to the sale of horses on Facebook, Cavalletti Equine Marketplace spoke to a representative from the social network yesterday.
The spokesperson clarified that advertising horses for sale did not meet Facebook policies. Common items Facebook doesn't allow people to sell include animals, guns and illegal products.
The definition of an advertisement could include those listed in the Facebook Marketplace, those created when using the 'Sell Something' tab within Buy and Sell groups, and those placed by Pages by boosting posts or creating paid campaigns.
However, the Facebook representative clarified that both individual Facebook Profile users and business Pages who wish to use the social network to rehome horses could continue to post links to external websites (such as Cavalletti) which listed horses for sale.
"It should be fine to post the links in closed groups as long as it is not promoted through an ad," the representative clarified.
Every horse classified advertisement placed on Cavalletti comes with a unique link which can be lawfully shared across Facebook. These for sale links can be posted on individual Facebook profiles, business pages or in Facebook equestrian groups.
It is important that all registered users are aware of Facebook's policies. Facebook team members are now actively monitoring Buy and Sell groups, and individuals now also have the options of reporting posts they think should be removed.
Individuals, Groups or Pages who violate the Commerce Policy, Community Standards, or Page terms will receive warning messages to remove the prohibited content. Should the warning be ignored, Facebook will take action to restrict a person's ability to post on Facebook or ban the person/page/group from Facebook completely.
Some Facebook users have reported "getting around" the company's rules by posting horses for sale as a status update. While this form of promotion does not appear to breach the Commerce policy, these posts have limited longevity and are trickier to use to display sales content effectively.
Overall, these new developments are an important reminder that Facebook is a platform which we do not control. Undoubtedly social media offers a unique the opportunity to showcase our horses to a wide audience but it should be used in partnership with the kind marketing efforts you can manage yourself – like your own website or advertising campaign on a specialised equestrian platform like Cavalletti.
With 30,000 registered users, a targeted mailing list of 12,000 equestrians and nearly 1.3 million quarterly page views, Cavalletti is an established online equestrian marketplace which has been delivering sales results to the Australian horse industry for 19 years. Classified ads on Cavalletti have 4 photos, 2 video clips, a description and contact details. For more information, or to place an ad visit:  https://www.cavalletti.com.au/pages/how_to_advertise.
---