Five of the Most Beautiful Equestrian Facilities in Australia
20 September 2016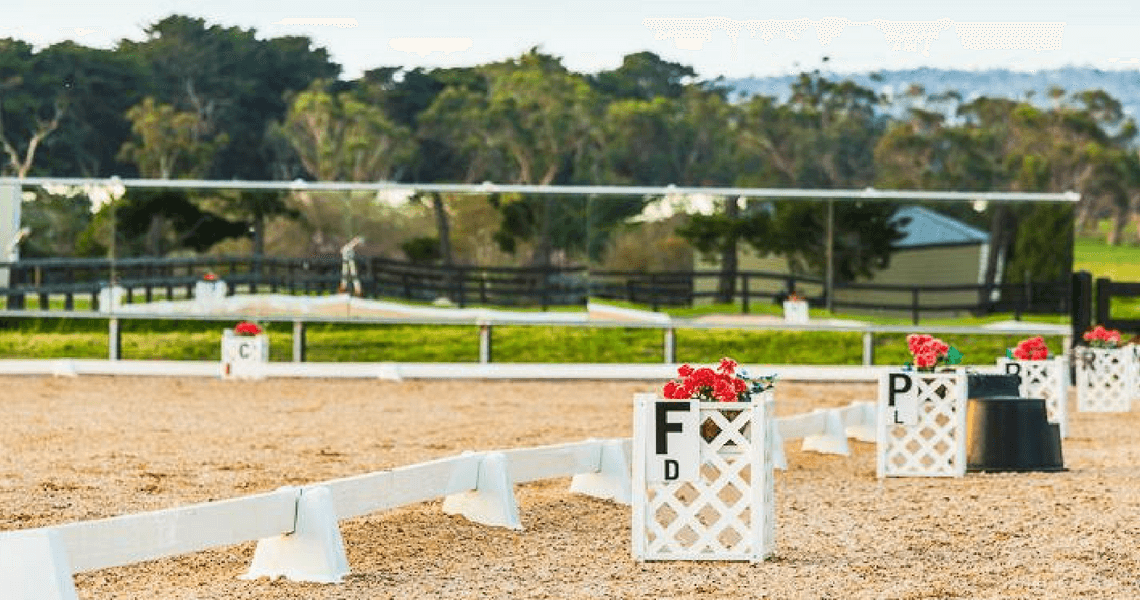 Tell me, what comes to mind when you first think of Australia…?
My first thoughts are generally broad horizons, picturesque landscapes and a rural culture stemming from some pioneering cattlemen and their trusty stockhorses…
Considering all these stereotypes and our outback heritage, it should come as no surprise that horses still have an active role in our culture and that our notorious countryside is home to some of the most beautiful equestrian facilities in the world.
Here's a few that come to mind…
Five of the Most Beautiful Equestrian Facilities in Australia
(in no particular order)
BROOKLEIGH EQUESTRIAN CENTRE
Swan Valley, WA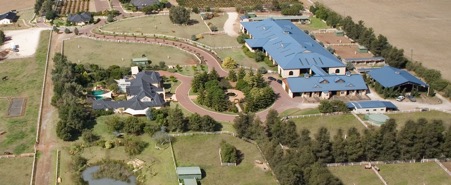 The stunning Swan Valley in Western Australia hosts our first equine eye-candy; Brookleigh Equestrian Centre.  The property stars several striking arenas, all of them are well maintained for either flatwork or jumping. Please note that this includes an indoor school built in limestone with yards and wash bays to match!
Offering brilliant facilities for clinics, workshops and even conferences the centre draws equestrian enthusiasts from around the country. And before you worry about the long journey back home with the float, Brookleigh has luxury accommodation for both you and your horse.
Depicted as "the finest equestrian training centre in the southern hemisphere" by none other than Andrew Hoy, this facility is definitely one to note!
BONEO PARK EQUESTRIAN CENTRE
Boneo, VIC

Based just outside of Melbourne, Boneo Park is the heart of the huge equestrian community surrounding the big city and stretches far beyond every horsey girl's imagination.
Featuring a massive indoor arena with imported geo-tech surface, multiple outdoor arenas and four round yards, Boneo quickly becomes the stuff of equestrian dreams. In case that's not enough, the centre is decked out with 160 rubber-lined stables, built in jarrah!
With its state of the art facilities, Boneo has become the prime location for dressage and show-jumping events in the area and even has its own catering facilities and a café. Offering a range of serviced agistment in an architecturally jaw-dropping building you could easily become jealous of your horse!
MOUNT BOGONG HORSEBACK ADVENTURES
Mount Beauty, VIC

While it's definitely easy to keep gazing at facilities that inspire thoughts of clean leather and perfect dressage tests, we might just overlook some of the most beautiful equestrian facilities that Australia has to offer; it's mountains.
Mount Bogong Horseback Adventures takes advantage of our breathtaking Victorian highlands and does not boast an arena, but a few hardy round yards and a stunning rustic barn and homestead. Although it could be architecturally alternative, the buildings here completely capture the high country heritage and the Bogong High Plains are the perfect backdrop for this horse trekking facility.
The whole property, (horse and rider accommodation included) manages to be practical and luxurious at the same time, the perfect place for an unforgettable getaway!
SYDNEY INTERNATIONAL EQUESTRIAN CENTRE
Sydney, NSW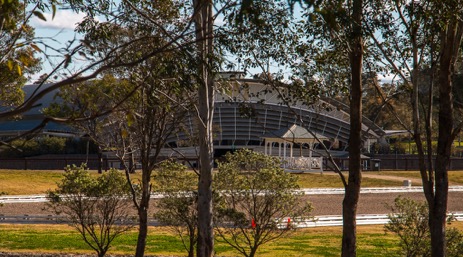 Now, the property that really puts Australia on the map, is the Sydney International Equestrian Centre. While this one moves a little further off the rustic Australian feel, its world class facilities in every area give it a sure spot on the list, and make it the perfect place to hold an event for almost any equestrian discipline. SIEC (as it's more commonly known), features major indoor and outdoor arenas, a cross country course, a steeplechase track and is even surrounded by 10 kilometers of countryside trails for those more interested in taking it easy.
Having hosted the equestrian events for the 2000 Sydney Olympics, SIEC is not only world-stage stunning, but is decked out with topnotch accommodation for both horses and riders. It even offers first-class catering facilities', making it the ideal location for any social or corporate event. When considering some of the top equestrian facilities in Australia, you would be rude not to include the Sydney International Equestrian Centre; it has it all!
MERRICKS EQUESTRIAN CENTRE
Mornington, VIC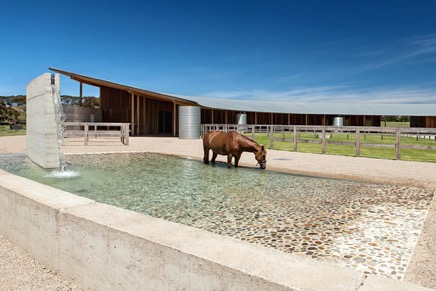 One of the most breath-taking equestrian facilities in Australia and perhaps even the world, is undoubtedly Merricks Equestrian Centre. Haven't heard of it?
Well this small scale private equestrian centre is based on the Mornington Peninsula just south of Melbourne, and is bound to be inspiration for your next stable development. It truly has the architectural wow-factor!
Commissioned by a client in the UK, the 6-stable building is lined by a striking curved rammed-earth wall, made of layers of compressed soil. This wall is not only cost-effective, but acts to border the centre's all-weather arena and channel a stream of water around the stables. And get this, this fountain-supplied water eventually becomes a shallow pool for your four-legged friends to enjoy; talk about luxury!
---