Love a good horse book?
12 February 2018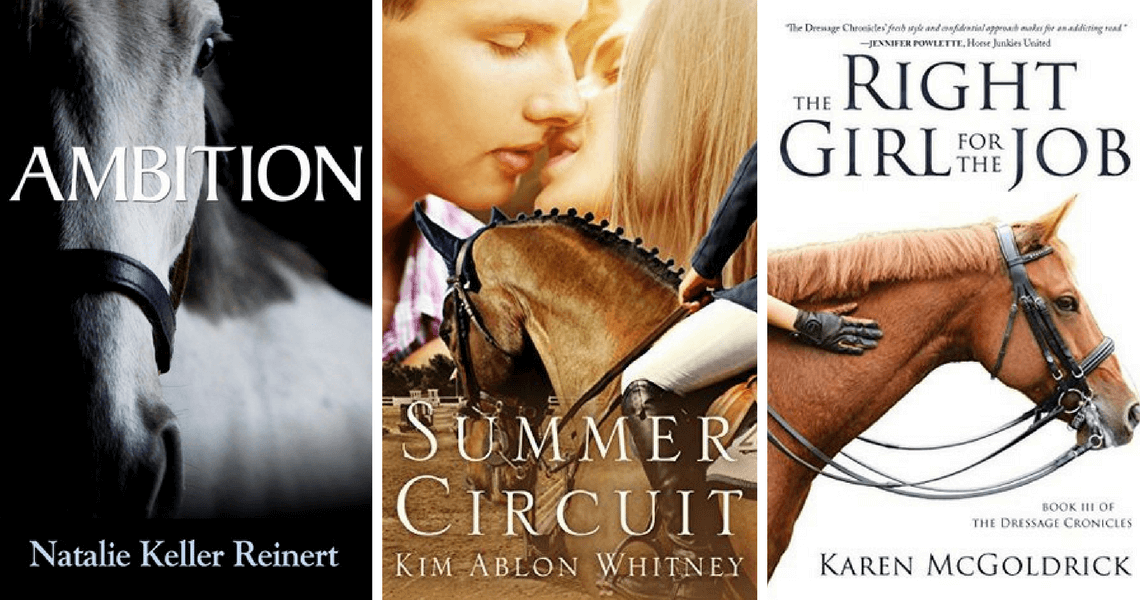 I love 'real' books. I have a library of heavy, dog-eared physical books and I have previously worked as a publicist for a publishing company producing gorgeous, jacketed texts. So, it took a few years for me to convert over to reading eBooks on a Kindle. I think it was getting the Kindle app on my smartphone that finally roped me in. It's just too convenient to dip into my latest fiction purchase whenever I have a few minutes and my phone handy.
It's thanks to my Kindle app that I have discovered the world of equestrian fiction on Amazon. Sure, I have devoured the likes of Jilly Cooper and Jane Smiley in the past, and I have piles of autobiographies of famous riders. But, my new addiction is reading contemporary horse-themed eBooks, preferably dressage or eventing novels that make up a whole series of books. Thankfully, there's hundreds of titles out there to indulge my love for a good horse book.
I'm guessing there might be fellow Cavalletti book-lovers out there who might enjoy a horse novel or five. So, I've shortlisted five of my favourite equestrian fiction series reads. I've also included where you can check them out on Amazon. (Don't forget, you can always download a sample first to see if it's your kind of story.)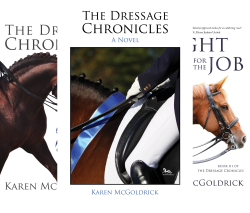 The Dressage Chronicles is a standout series of four novels written by someone who really knows her horses. Karen McGoldrick is a dressage coach and rider as well as an author, which enables her to transport the reader directly into the world of dressage at a prestigious barn. Readers follow the story of Lizzy, a young woman following her dreams to become a Grand Prix rider by taking on a position as a working student for her equestrian idol. I loved all the caricatures of the stereotypical characters we've all come across on our own riding journeys. Everything we live and breathe about owning horses has a role in the story – grooming, training, lessons, shows, vet visits, trail rides, accidents, the gear, the clothes, the money. Most importantly, the horses are described in such detail that they are nearly more fleshed out than the human characters – I could feel what it would be like to ride each of them. I think any equestrian could find much to relate to in the Dressage Chronicle series…once you start the first book you'll be hooked. You can buy the entire Series here.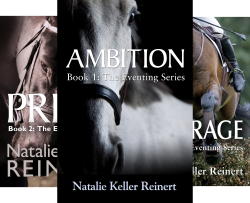 Having only ridden in Pony Club E grade ODEs, The Eventing Series by Natalie Keller Reinhert gave me the chance to explore my inner cross-country hoon. The main character, Jules, has set her sights on being a professional event rider, despite being down on her luck. She is not the most likeable personality, but I'll bet you've come across someone just like her in the horse industry. Even with all her flaws, she is passionate about her horses and you can't help but want to see her succeed in the end. There's a hint of romance with one of her rival riders, but it's the competition storyline that pushes the plot forward. The narrative absolutely crackles with all the tension and nerves of a qualifying event. Natalie Keller Reinhert is another author who writes equestrian fiction the way only a true rider can, and I'm sure all the aspiring eventers out there will find this series page-turningly good. Check out the whole series here.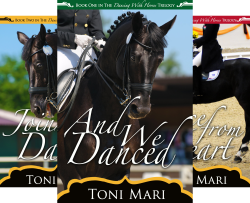 It was only while writing up this review that I realised The Dancing With Horses trilogy is actually a young adult series. Oh well, I must be super immature because I lapped it up! The heroine, Jane, buys a Grand Prix horse who is temperamental, hot, spooky and uber-talented. A shy teenager, Jane must find all her confidence to develop the bond and skill required to ride Windsong. Along the way there's a love interest in the form of a cowboy who helps her with more than horsemanship. Oh yeah, it all sounds a bit corny but the riding, training and showing descriptions are spot on and I was really satisfied with the end of the third book. Plus, there's some nice parallels between English and Western riding that lead to the characters understanding that they're not so different after all. You can download these straight to your Kindle or e-reader here.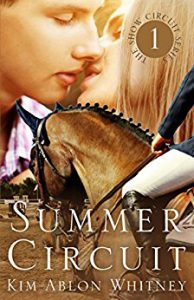 I'll admit, these books became a bit of a guilty pleasure. The Show Circuit series mixes romance with horses and the books are all light-hearted, easy reads. I'm not very knowledgeable about the US hunter/jumper scene but that didn't matter – I was easily transported into life on the Show Circuit; prestigious competitions which run over weeks in summer and winter. The author is actually a USEF judge, so the richly illustrated showjumping scenes are full of technical descriptions of walking and riding the courses. The characters are around College age or a little younger, so the genre sits between Young Adult and New Adult with a bit of sex and alcohol woven through the series. You can read The Show Circuit series for the horses, or the love stories, and be equally satisfied with the escapism offered. Download a preview to see if they're your kind of read here.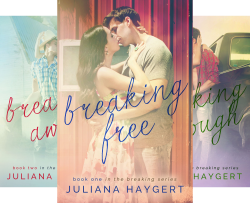 If you're reading the Breaking series for in-depth and realistic horse and human interactions, well, you're likely to be disappointed. Unlike my other picks, the horse parts play reserve to the human character development – specifically, the steamy romances between the main players. The books are based around the world of international polo and the swoonworthy Brazilian team who have recently established themselves in California. A bit of fact checking on the polo scene (actually horses in general) would have made this a less clunky read, and if you want to get really picky, the books could also use a good proof-reader. Having said all that, strap yourself in for a suspenseful read full of secrets, kidnappings, domestic abuse, arson, animal cruelty, violence and twisted relationships. On a deeper level, these are also storylines about trust, healing, overcoming fears and the meeting of cultures. To be read when you feel the need to immerse yourself vicariously in an equestrian lifestyle far removed from your own. Have a better look at the three books here.     

If you happen to download any of these books, please stop by and let us know your thoughts in the comments below!
This article contains affiliate links.
---