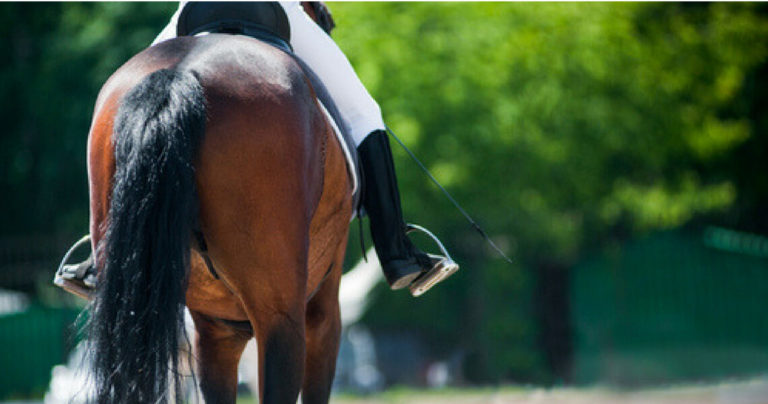 Can you imagine a better feeling than making your way around the arena, 500kgs of horse underneath you, beating in time to your favourite song?
Music is a fantastic tool for motivation and a simple and easy way to help your mind relax and tune out from the world. Whether you're a die-hard country fan, like a bit of the classics or keen on a bit of 'doof doof' clubbing music, listening to music while riding is never a bad thing.
Here are 10 (randomly assembled) songs that are that will get your heart pumping, your horse's legs moving and have you dancing through your training sessions in no time!
1. Kicking it off with Queen's, 'We Will Rock You,' because, as if you wouldn't!
2. What better song to get you grooving and have you and your horse feeling just that little bit ridiculously cool than Macklemore and Ryan Lewis', 'Thrift Shop'?
3. Coming in at number three, 'Pony' by Ginuwine. Because Channing Tatum and ponies. Need I say more.
(Just in case you're not convinced)
4. Since I'm a huge fan of Lady Gaga, my number four suggestion is 'Born This Way', just to remind you while you're riding how great you are no matter what, and to keep doing what your doing!
5. Nothing better than an awesome movie soundtrack to ride to and the 'Pirates of the Caribbean' soundtrack will have you feeling like you're sailing around the arena.
(P.S. Any movie with a strong soundtrack is great to have as background noise. Others you could try listening to are the 'Harry Potter' movie soundtracks or the 'Chronicles of Narnia: The Lion, the Witch and the Wardrobe' soundtrack. Think unicorns galloping into battle to save your country from an evil white witch!)
6. Because no playlist would be complete without a dose of Adele and some 'Rolling in the Deep'.
7. Next up, what better Aussie classic to ride to than Daryl Braithwaite's 'Horses' (of course!).
8. For some positive vibes, Flo Rida has a 'Good Feeling' and hey, that's important for a good ride!
9. Something for the classical music lover, (and, admit it, we all have a small soft spot for a bit of Mozart or Beethoven) 'Symphony No. 4' by Mozart is good background music to set the scene for your ride.
10. And last but not least, to really boost your confidence, a bit of Eminem and 'I'm not afraid', to really kick any doubts right out of your mind!
So there's just a few songs pulled together that are awesome to ride to, but if none of them suit your fancy, there are millions more out there for you and your horse to get your groove on.
Music can make riding a lot of fun no matter what genre you're into. I recommend getting a good music app like Spotify, so you always have something on hand to get you motivated and ready for an awesome ride.
Happy listening!
Main photo credit: @mari_art
---