Top 5 Products for your Equine First Aid Kit
29 September 2016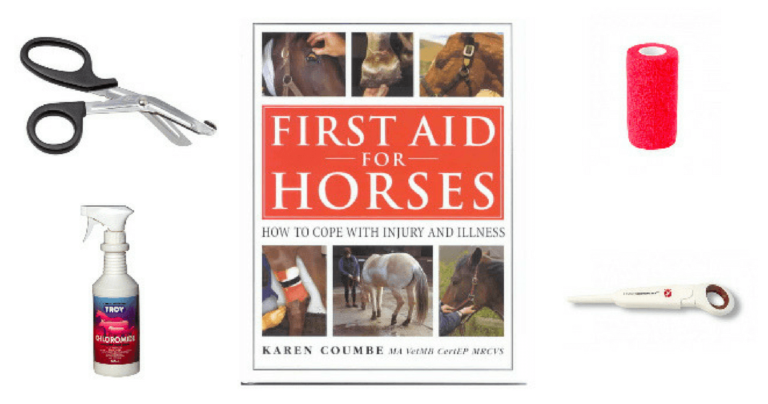 When dealing with horses, there's one proverb to keep in mind and that's Murphy's Law; anything that can go wrong, will go wrong. Our first line of defence, is a good First Aid kit.
A basic First Aid kit should help you take care of minor injuries and illness that you can treat yourself and help you handle a bigger wound until the vet can take over.
When compiling your arsenal, here are some suggested products to keep your kit stocked up with.
Top 5 Products for your Equine First Aid Kit
1. Troy Chloromide Spray
Price: $21.99 at Petstock
The first item that should always make your first aid kit is a broad spectrum antiseptic wound cleaner and Troy's Chloromide Antiseptic Spray is a great choice. The wound spray aids in treating bacterial skin diseases, topical infections and any cuts or abrasions.
The product's spray method is easy to use and gives a thorough application. Just spray the affected area until it's completely coated and use as frequently as needed until the given injury is recovered.
Troy's Chloromide even includes insect repellent and a taste to deter any possible licking that could interfere with healing; so you can be sure you won't waste any on your fussy patients!
2. Thermometer
Price: $49.95 at Horseland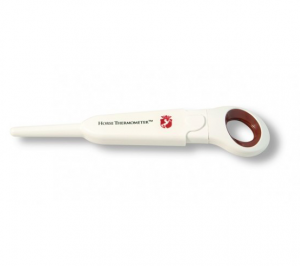 Sometimes illness isn't always obvious and the need to assess your horse's vital signs becomes apparent. A simple check of temperature will help you recognise if your horse is unwell and in need of medical attention.
During an emergency, informing the vet of an abnormal temperature may result in a faster and more accurate treatment for your horse.
Digital thermometers combat these issues and are faster, safer and easier than the old glass alternative.
The ideal equine thermometer can be purchased from Horseland for $49.95 and is a great mercury-free option. This thermometer gives a quick, easy-to-read result and even has a ring on the end to allow attachment; so you can't lose it in those tricky situations!
3. Bandage Scissors

Price: $4.95 at Petstock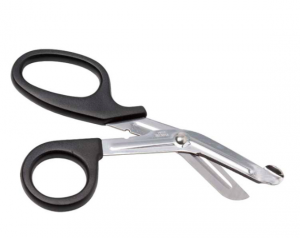 I don't know about you, but there's pretty much always a demand for a pair of scissors when I'm doing something horse related. Whether it's opening a feed bag, cutting some bailing twine or trimming some mane or tail, decent scissors always come in handy.
So it's no surprise that during an emergency, the chance of you needing a good pair is more than likely.
These Bandage Scissors from Petstock would be a great addition to your first-aid kit. They can help you free your horse from scary and potentially injury-inducing items like flappy plastic bags or netting and are a strong, easy-to-use option.
Their blunted and angled blade shape makes them a safe tool for cutting off dressings, poultices and thick bandages; definitely an essential for any equine first-aid kit!
4. Roma Cohesive Bandages
Price: $5.95 at Horseland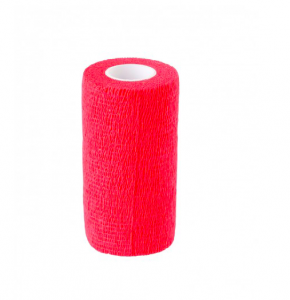 We all know with horses that you're likely to tend to minor scratches and cuts, and there's always the potential for more severe injuries; especially involving the legs!
That's why every decent first-aid kit should contain bandages and Roma's Cohesive Bandages are a great, affordable option.
These bandages are useful for protection and support, while also being ideal for holding wound dressings. Furthermore, these Roma bandages stick to themselves and are easy to rip at your desired length; perfect for quick application during testing times.
They're stretchy, water resistant and come in 10 different colours; so they could even add colour to some fancy dress costumes or create a bright tail wrap!
5. A copy of First Aid for Horses – How to Cope with Injury and Illness

Price: $45.00 at horsebooks.com.au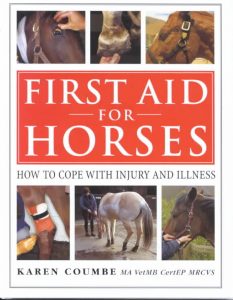 An easy way to prevent and tackle all common illnesses and accidents, is the understanding and regular monitoring of your horse's vital signs. Every horse is different and keeping a book in your first-aid kit can be a handy way to keep a note of your horse's normal behaviour.
These notes should accompany a veterinary first aid book, which reinforces your first aid knowledge by providing information and treatments for all common equine illnesses.
A great choice is a copy of "First Aid for Horses; How to Cope with Injury and Illness", written by leading veterinary surgeon Karen Coumbe.
Providing extensive illustrations and clear advice in a quick-to-reference format, it is the essential emergency handbook for any horsey person.
Don't forget to write your vet's phone number on the cover!
---