Welsh Ponies and Cobs
8 August 2018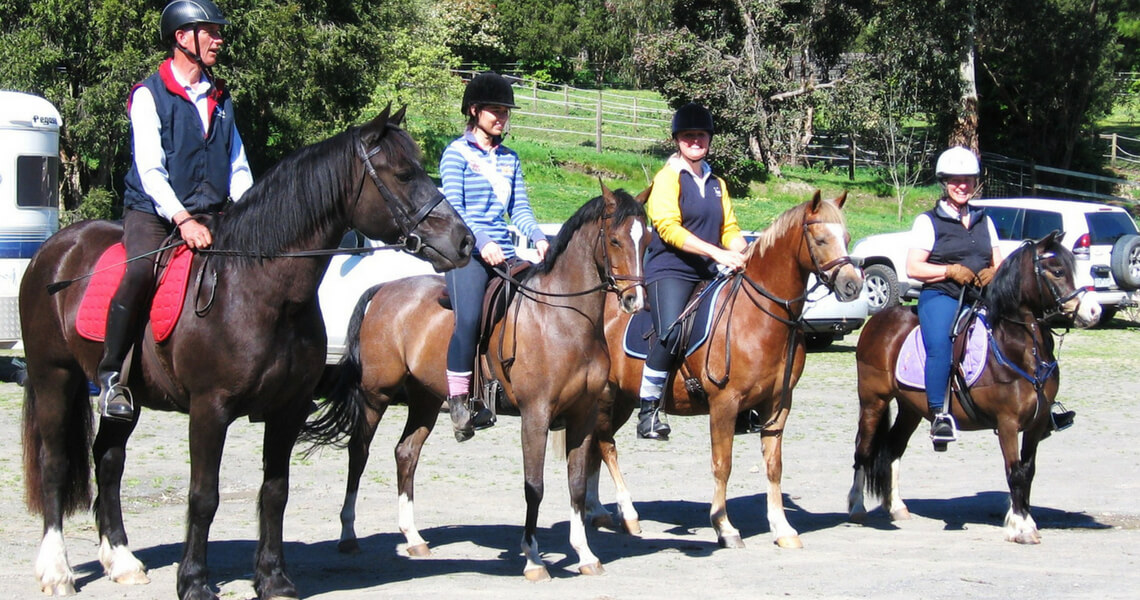 I wasn't a child who learned to ride on a fat, grey Welsh pony. For some reason, when horse riding became part of my life, I wanted to ride horses, and I wanted the tall ones! Even when I recommenced dressage lessons as an adult, I lusted after 17hh warmbloods with big movement and big personality. Welsh ponies and cobs were not in my trajectory.
Over time, both my budget and my riding ability received a reality check, and I started to notice that great horse flesh also came in smaller sizes. The kind more suited to a 5'5", small framed, mature rider. Now that I own a Welsh Cob (my 14hh Section D mare, affectionately known as the "buckskin barrel"), I can't ever imagine choosing a different breed.
The Welsh Pony and Cob Society (WPCS) of Australia's tagline is "the breed for all the family", which may surprise the uninitiated. There are actually six sections within the breed, with heights ranging from around 11 hands up to about 15.2 hands. While most horse enthusiasts would recognise the quintessential Welsh as a reliable ridden child's pony (or sometimes the more cheeky 'Thelwell'-esque mount), Cobs and Part Welsh types complete the registry.
I think I've noticed something of a renaissance when it comes to adults riding Welshies competitively in recent years. Or maybe I'm more attuned to seeing the breed out and about because that's what I aspire to. My Welsh Cob is related to several top showjumping ponies in the UK, including Machno Carwyn, the leading pony showjumping stallion of all time. And the Cob that got me hooked on Welshies is the FEI dressage winning stallion, North Forks Brenin Cardi.
Just recently, there was a strong contingent of Welsh ponies and cobs at the Sydney CDI International Dressage, and Dressage with the Stars at Werribee. Even Vicky Roycroft has warmed to the charms of the breed – she took Welsh Cob Alcheringa Tradition out jumping while his young rider was injured. Dr Harry Cooper is another fan – he has his own Welsh Mountain Pony stud. And, of course, you'll see the breed on display at any local breed show, pony club rally, Show Hunter class and harness event.
Like me, Liana Amott owns a young Welsh D, and praises their versatility. While focussing on dressage, Liana and her cob have also done some showjumping, horse trials and navigation rides. She says that, "The stubborn 'pony' streak gives him character and he has such a personality, however his movement and talent matches that of a big horse. Willing and so quiet, but he has such spark that it makes him fun".
Similarly, Linda Page has three Section Ds which she uses for dressage and hacking. She is a big fan of the temperament and movement of Welsh ponies and cobs, and adds that she "loves solid horses"!
The solidness of build has attracted Jacky A'herne too, who says that this stockiness "makes them easier for adults to ride and feel like they have something solid underneath them". Jacky also points out that they are calm and gentle with children.
Welsh ponies and cobs are definitely a popular choice of pony in Australia. Thirty thousand animals are registered in the WPCS studbook, with 3000 people choosing to be members. I can imagine there would also be a large number of unregistered ponies out there too. The impact of the breed is clear; the Welsh pony has strongly influenced the look and character of many Australian show and pleasure horses.
According to the WPCS, historical records make mention of Welsh Ponies and Cobs being imported to Australia since the early 1800s. They are a very historical breed – it's thought the refinement of the ponies we recognise today occurred over the period 1100 to 1500 in Wales, UK. They also have a proud history of being very useful mounts, excelling at farm, cavalry and mine work and being the choice of transportation for tradesmen and doctors in the 18th and 19th centuries.
A breed registry was established in Wales, in 1901, with sections allocated for the types and heights of the Welsh Mountain ponies, ponies of Cob type and Cobs. Just like all horse breed standards, the various registration categories are pretty confusing to the novice. Each section (A, B, C, D, E and Part Welsh) has unique characteristics, but they all embrace the same pony character, versatility and temperament. And it's true — speaking to other owners about what they love about their ponies or cobs, these are the main things they gush about regardless of which section they own.
Lori Blechynden has just purchased her first Welsh C filly for dressage after "watching a friend's cob rescue pony beat the fancy imported bloodlines at several top competitions". She reveals that she has been lucky enough to ride him and he is a delight — great temperament, willing to learn and with the equivalent movement of a German Riding Pony. She's finding the breed much easier than the thoroughbreds she is used to dealing with.
Another proud pony owner, Alyssa Betts recalls her childhood with her very first pony, a Welsh Mountain gelding (Section A). She explains that he started out as her grandpa's cart pony, but after she got him he went to pony clubs and shows – even the local street parade one Christmas.
"He would go down the river basically every morning with dogs in tow, go out on camps for days, would tether in between the grape vines and even put up with giving us kids bareback pony rides," Alyssa says. "He definitely holds a special place in my heart!"
For more information on Welsh Ponies and Cobs in Australia you can visit the WPCS website: www.wpcs.com.au.
---