Cleveland Bays
16 June 2016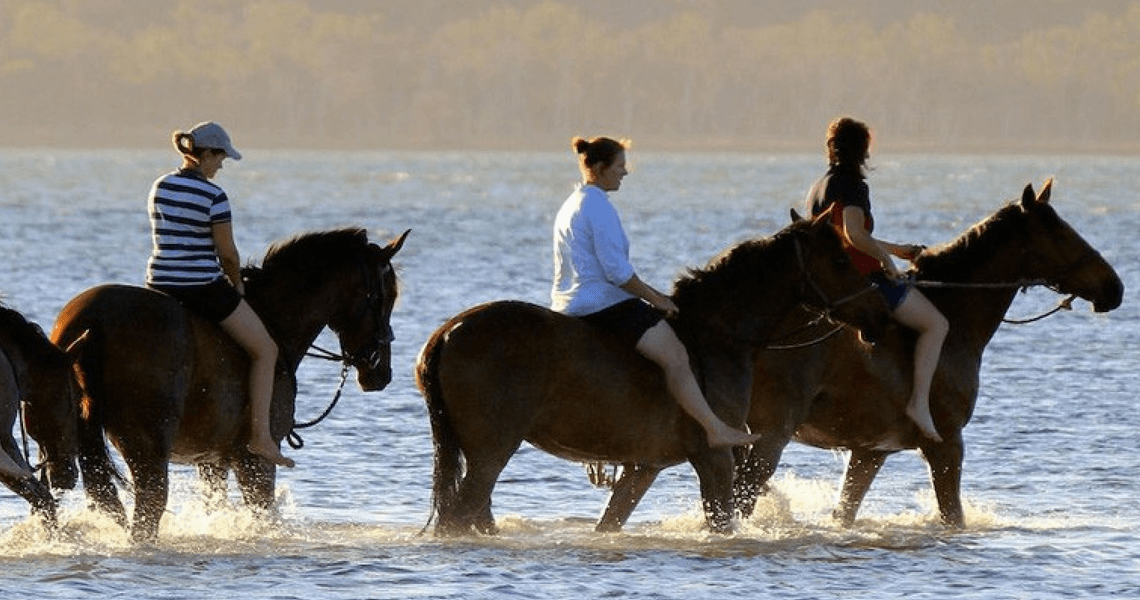 When I returned to riding as an adult, I was smitten with the world of dressage. I wanted to immediately go out and purchase a Warmblood and start competing. At the time, I had a very wise friend who gave me a lesson on her Elementary dressage horse. Monty was a magnificent Cleveland Bay, and he quickly pointed out that I needed many more lessons under my belt before I would be riding a dressage test. I still remember my friend exasperatedly shouting, "outside rein, outside rein!"
Ever since, I've been a big fan of the Cleveland Bay – a rare breed in Australia – and have enthusiastically followed the progress of any I saw out and about locally. Luckily, the Cleveland Bay Horse Society of Australasia is a really active promotional group, and I've been able to satisfy my curiosity about the breed through President, Brenda Boaden.
Brenda told me that 701 crossbred horses have been entered into the Australian Studbook since the beginning of the Society, 41 years ago. In addition to this, 61 purebreds have been registered with the Society — most of these are also registered with the Cleveland Bay Horse Society (UK). Of these horses it is believed around 200 may be alive in Australia today.
Despite being Britain's oldest breed of horse – Her Majesty the Queen is a breeder – there are only small numbers of Cleveland Bays throughout the world. The breed was named after the Cleveland district of Yorkshire.
The Cleveland Bay is a muscular horse who, as the name suggests, must be bay with black points, i.e. black legs, a black mane and a black tail. The breed standard indicates that Cleveland Bays should stand 16-16.2hh. However, Brenda explained that there are a few horses that are around 15.2hh and that they are not actually a 'heavy horse'. "The Cleveland Bay is quite a light horse with clean legs that have little feathering," Brenda said.
Brenda then educated me on a few home truths about Cleveland Bays, including that they are an exceptionally long living breed. In fact, a partbred Cleveland Bay holds the oldest horse record — Old Billy lived until the verified age of 62 years!
Soundness is another positive characteristic of the breed. According to Brenda, Cleveland Bays have great bone and feet — their blue hooves rarely need to be shod. "I have not shod a horse in my eleven years of breeding Cleveland Bays!" Brenda explained. She works her stallion, Tregoyd Topper, on the road 3 times per week and he's never required shoes.
In fact, Brenda believes that Cleveland Bays are the most economical large horse that you could own. "They have low cost feet and low cost feeding — they don't require grain or high energy diets as they are a native warmblooded horse with the constitution of a pony," she said.
I asked Brenda what sort of rider purchases a Cleveland Bay. She candidly answered, "any rider who wants a horse that can turn his hoof to anything and is easy to keep". She went on to say that Cleveland Bays suit a rider with knowledge who wants a sane, trainable horse.
"When they are young they best suit an experienced person as they are so trainable; they should have correct education," Brenda said. "In their older years they make the best schoolmasters for our young and talented riders – they are wonderful horses to teach, give confidence and take them to the top. There are many examples of this in dressage, eventing and showjumping,"
Brenda herself has competed her Cleveland Bays in the Prince Philip Mounted Games, as well as barrel racing, sheep and cattle work. She believes the breed to excel in anything that requires a true, straight-moving horse that can hold a rhythm. "They're quicker than you would expect," she added. "A true working partner."
"One of our horses is currently enjoying work in archery and jousting. Vaulting is another common one they are super at as they are a horse that holds a natural rhythm. Western riding, cutting and clay pigeon shooting are some other disciplines you'll find the breed excelling in."
I prompted Brenda to reveal one thing about Cleveland Bays that riders might be surprised to hear. She quickly responded, "The bond they form with their 'person'. My three Cleveland Bay girls would all walk over hot coals for me if I asked them to."
According to Brenda, they are also highly trainable and willing horses. "Mine have all been as honest as the day is long. In my last lesson the instructor was blown away by my stallion's willingness despite my error. He just wanted to do what I asked and when I did, he did it without fuss," she said.
To find out more about the Cleveland Bay breed visit the Cleveland Bay Horse Society of Australasia's website or Facebook page.
---