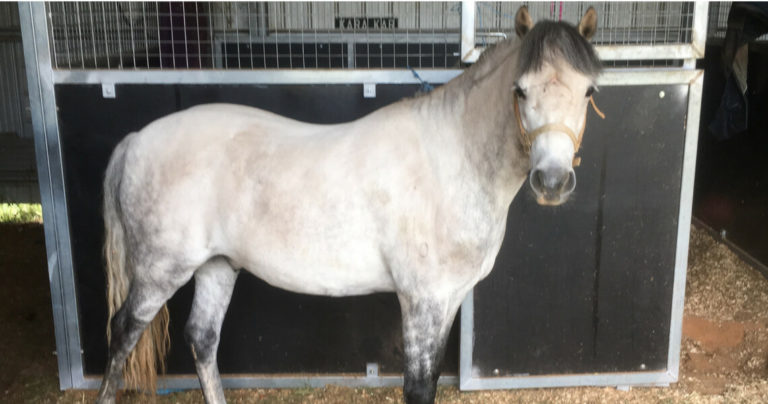 Please note, this article contains graphic and confronting photos of a horse injured following a paddock accident.
Most Sundays in our household revolve around the odometer of our car ticking over the kilometres in regional NSW from one horse event to another. This particular Sunday was meant to be the same, but unfortunately the decision to skip a horse show was met by a rather traumatic freak paddock accident.
On Sunday the 28th of August last year, my pony, Mac, was found in the paddock with a major head trauma. He was acting normal, standing on four legs when he was discovered, with his summer rugs in place, yet with a sizable hole in his head. The pony had no temperature, and no huge signs of neurological problems or eyesight issues. He was immediately floated to the Wagga Wagga Veterinary clinical hospital at the Charles Sturt University where the damage of the traumatic head wound was assessed.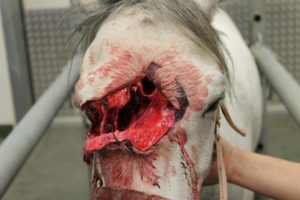 The frontal bone was fractured and depressed into the frontal sinus. Computed tomography (CT) revealed disruption to the cribriform plate and air within the brain tissue (pneumocephalus). Cerebrospinal fluid was collected from the atlanto-occipital space during anaesthesia and the fluid was haemorrhagic (normal fluid is clear). The pony was then taken to surgery where the depressed frontal bone was elevated and the fracture was stabilised using two bone plates. A catheter was left in place in the frontal sinus to allow flushing of the sinus with sterile saline for two days after surgery. Antibiotic treatment was continued for a further 6 days due to the concern for the possible development of meningitis as a result of disruption to the cribriform plate. He was taken off antibiotics and pain killers as he proved to be a very stoic little pony and we feared antibiotic resistance and to reduce the risk of diarrhea and other gut issues.
Mac was floated home after 8 days in intensive care, and was appointed a brand new humble abode (stable for a further month box rest). He was transported back to the vet hospital after 3 weeks for the stitches to be removed and further assessment of his pretty injury.
He was box rested to keep his wound dry, limit his activity and allow the wound to heal. Over the next few weeks, Mac was allowed for daily walks to be grazed with as little movement as possible. In total he was kept stabled with very limited outings for about two months. He had sustained 23 fractures to his skull and this needed time to heal and he needed to remain quiet and his head dry (in a period of extremely prolonged rain). He is one very lucky pony to have survived this injury!  With limited scaring, help of some very fine surgeons, a good amount of rest and stable care high, he may still make it as a show pony.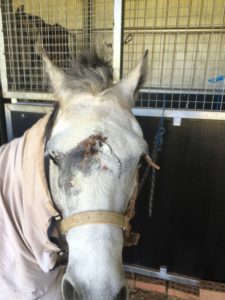 This injury, is very unusual, very out of character for the pony to be harmed, and by all accounts seems to be a complete freak paddock accident. With no clear indicator of how the injury was sustained, the pony was kept by himself in an electrified paddock, with no rocks or trees, it is a mystery I wish I could solve.
However, it goes to show, that where there is pleasure there is pain, and unfortunately horses are prone to inuring themselves, but there is always a good chance of survival if the right measures are taken and animal husbandry is high.
Horse lovers do not despair- this pony is living proof that they can get through some of the worst and come out the other end, somewhat 'unscarred'.
Save
---