19sepAll DayWDAWA September Show 2021Western Dressage - running in conjunction with the PRAC ShowEvent Type:Western Dressage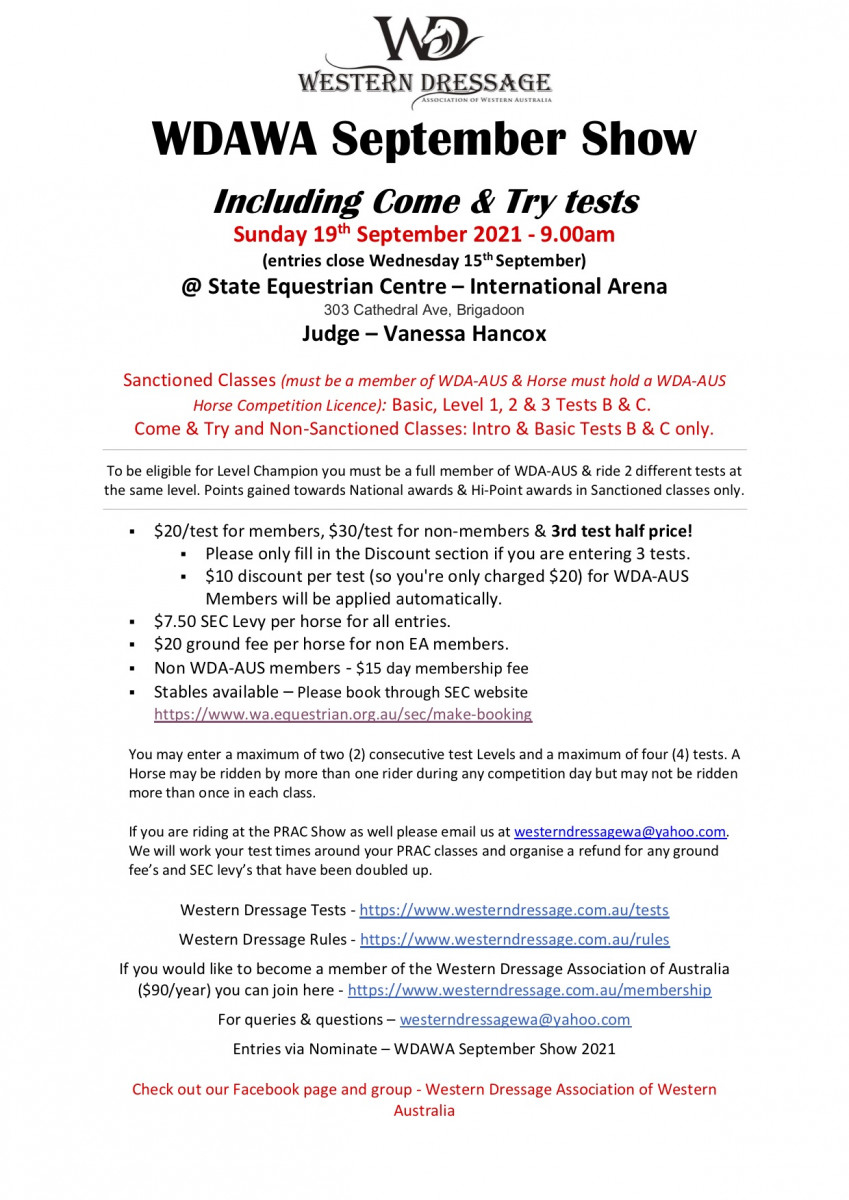 Event Details

WDAWA September Show

Including Come & Try tests
Sunday 19th September 2021 – 9.00am
(entries close Wednesday 15th September)
@ State Equestrian Centre – International Arena
303 Cathedral Ave, Brigadoon
Judge – Vanessa Hancox

Sanctioned Classes (must be a member of WDA-AUS & Horse must hold a WDA-AUS Horse Competition Licence): Basic, Level 1, 2 & 3 Tests B & C.

Come & Try and Non-Sanctioned Classes:Intro & Basic Tests B & C only.

To be eligible for Level Champion you must be a full member of WDA-AUS & ride 2 different tests at the same level. Points gained towards National awards & Hi-Point awards in Sanctioned classes only.
$20/test for members, $30/test for non-members & 3rd test half price!

Please only fill in the Discount section if you are entering 3 tests.

$10 discount per test (so you're only charged $20) for WDA-AUS Members will be applied automatically.

$7.50 SEC Levy per horse for all entries.

$20 ground fee per horse for non EA members.

Non WDA-AUS members

–

$15 day membership fee

Stables available

–

Please book through SEC website

https://www.wa.equestrian.org.au/sec/make-booking
You may enter a maximum of two (2) consecutive test Levels and a maximum of four (4) tests. A Horse may be ridden by more than one rider during any competition day but may not be ridden more than once in each class.
If you are riding at the PRAC Show as well please email us at [email protected]. We will work your test times around your PRAC classes and organise a refund for any ground fee's and SEC levy's that have been doubled up.
Western Dressage Tests – https://www.westerndressage.com.au/tests
Western Dressage Rules – https://www.westerndressage.com.au/rules
If you would like to become a member of the Western Dressage Association of Australia ($90/year) you can join here – https://www.westerndressage.com.au/membership
For queries & questions – [email protected]
Entries via Nominate – WDAWA September Show 2021
Check out our Facebook page and group – Western Dressage Association of Western Australia
Location

SEC, BRIGADOON

Cathedral Ave Brigadoon, Perth