17octAll DayWDAWA Spring Show 2021Western Dressage Spring Show - Foxwood FarmEvent Type:Western Dressage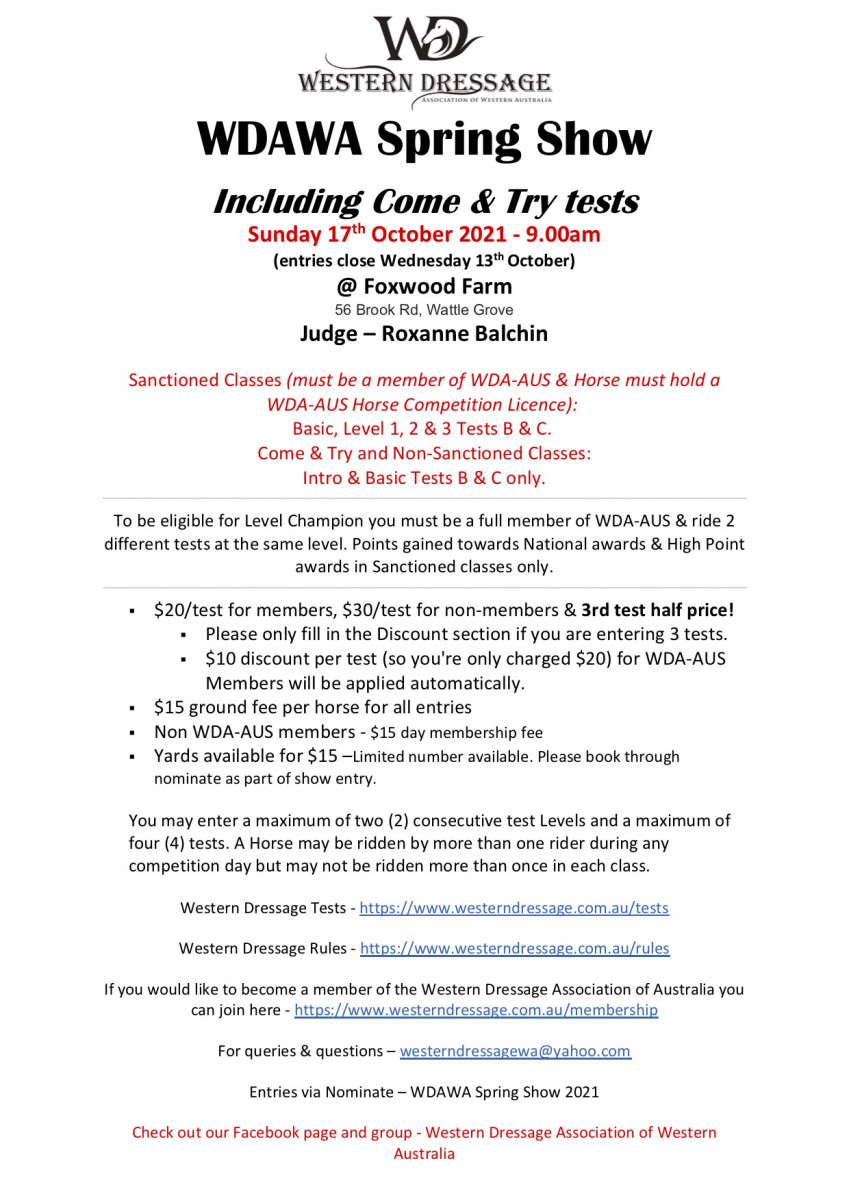 Event Details

WDAWA Spring Show

Including Come & Try tests
Sunday 17th October 2021 – 9.00am
(entries close Wednesday 13th October)
@ Foxwood Farm
56 Brook Rd, Wattle Grove
Judge – Roxanne Balchin

Sanctioned Classes (must be a member of WDA-AUS & Horse must hold a WDA-AUS Horse Competition Licence):

Basic, Level 1, 2 & 3 Tests B & C.

Come & Try and Non-Sanctioned Classes:

Intro & Basic Tests B & C only.

To be eligible for Level Champion you must be a full member of WDA-AUS & ride 2 different tests at the same level. Points gained towards National awards & High Point awards in Sanctioned classes only.
$20/test for members, $30/test for non-members & 3rd test half price!

Please only fill in the Discount section if you are entering 3 tests.

$10 discount per test (so you're only charged $20) for WDA-AUS Members will be applied automatically.

$15 ground fee per horse for all entries

Non WDA-AUS members –

$15 day membership fee

Yards available for $15 –

Limited number available. Please book through nominate as part of show entry.
You may enter a maximum of two (2) consecutive test Levels and a maximum of four (4) tests. A Horse may be ridden by more than one rider during any competition day but may not be ridden more than once in each class.
Western Dressage Tests – https://www.westerndressage.com.au/tests
Western Dressage Rules – https://www.westerndressage.com.au/rules
If you would like to become a member of the Western Dressage Association of Australia you can join here – https://www.westerndressage.com.au/membership
For queries & questions – [email protected]
Entries via Nominate – WDAWA Spring Show 2021
Check out our Facebook page and group – Western Dressage Association of Western Australia
Location

Foxwood Farm Equestrian Centre

56 Brook Rd, Wattle Grove, WA, Australia, 6107